Chinese medicinal food health technology held competition
China's traditional Chinese medicine to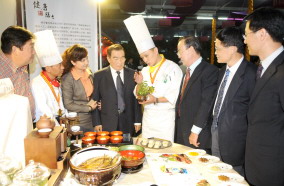 Get special gold medal of the nanjing tongrentang health hotel executive chef wang bin (right four) is to the Chinese medicinal food research institute of honor ZhouWenQuan (right five) will changsha chicken tung (third from right), vice chairman of YangRui (second from right) and other leaders with fresh introduced dendrobium of cheffing experience. Our reporter giant front/taken
Report from our correspondent (reporter qin autumn) on October 27, the 7th "chase colla cup" Chinese medicinal food health technology production (cooking) competition held in Beijing. Vice minister of health, the state administration of traditional Chinese medicine chief WangGuoJiang points out, medicinal food is the broad masses of the people health care "of treating disease before" an important way in the future to strengthen medicinal food industry management, and promote the development of standardization.
WangGuoJiang said, medicinal food not only reserved the Chinese food color, smell and taste characteristics, and Chinese medicine theory house keeping in good health health care in daily diet of the Chinese nation is a great invention. We will strengthen the medicinal food industry management, promote the standardized development, actively participate in medicinal food standardization construction work and strengthen the medicinal food personnel training, and constantly improve the medicinal food the ability of independent innovation, and further carry forward the medicinal food culture, give full play to the medicinal food in "of treating disease before" health engineering of advantage and function.
From Harbin, Inner Mongolia, fujian, hainan, jiangsu, hebei, jiangxi, Beijing more than 10 provinces, cities and autonomous regions throughout the country more than 40 group 300 contestants participating actively. The selection, nanjing tongrentang health hotel, Beijing we are the world, Beijing day pass green ecology etc 16 units won the group's gold medal; Day pool private assembly hall, the ministry of railways organs such as the dining room 10 units won the gold medal groups; 13 people won all-round individual's gold medal, 20 people, the individual individual gold medal, and 80 the individual gold medal.